What's the difference between new X100 Pad and old X100 Pad?
Old X-100 Pad comes with extra VCI box. New X100 pad with built-in VCI, provides more stable communication. New X100 PAD contain all functions of old X100 PAD .


I. X100 PRO Auto Key Programmer
1. It is a handheld device for programming keys in immobilizer units on vehicles.
2. This scan tool has a simple and robust design, to make your vehicle service experience much easier!
3. Support online updated and add toyota G chip by OBD
4. Provide free pin code calculating service for Ford and Mazda.
II. Top 4 Reasons to Get X100 Pro Key Programmer:
1. Update Online (The Old Version X100+ Can Still Update Online too, Just Download Update Tool from Official Website, then Use Serial Number and Register Password to Log in and Update)
2. Supported Various Vehicles Models:
Asia: Toyota, Lexus, for Honda, A cura, Mazda, for N issan, Infiniti, Mitsubishi, Subaru, Suzuki, Kia, Hyundai, Daewoo, SSANGYONG, Proton, etc
Europe: for Audi, VW, Skoda, Seat, for P orsche, Opel, Citroen, Peugeot, Jaguar, for L and Rover, Lincoln, Renault, etc
America: for G M, C adillac, B uick, Chrysler, F ord etc
China: Great Wall, Chery, Brilliance-auto, Geely, LIFAN, HAFEI, CHANGAN, LANDWIND, BYD, BYD , JAC, etc.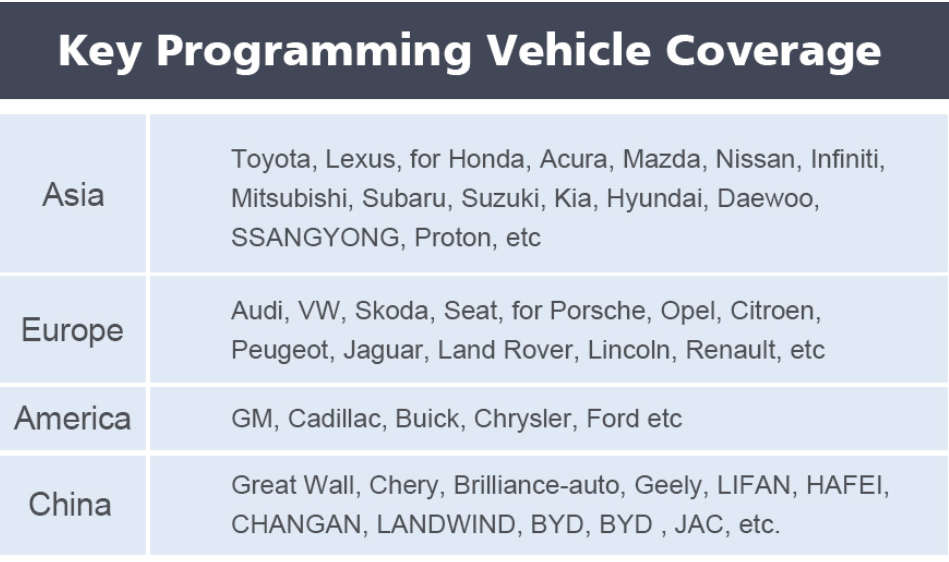 3. X-100 Pro Auto Key Programmer is a Handheld Device for Programming Keys in Immobilizer Units on Vehicles. This scan tool has a simple and robust design, to make your vehicle service experience much easier!
4. Support Add Toyota G Chip Via OBD
III. Notice:
1.Language: English, Spanish, French, German, Norwegian, Russian, Persian, Arabic, Polish, Hindi and Portuguese
2.Free Update Online for Two Years
IV. Xtool x100 pro Features:
1.New Keys Programming
2.Reads Keys from Immobilizer's Memory
3.New Immobilizer Programming
4.New ECU Programming
5.New Mechanical Key Number Programming
6.Vehicle Identification Number Programming
7.Reset ECM & Reset Immobilizer
8.Easy to operate by the guided menu programming
9.New remote controller programming
10.With full and strong database for the most important vehicle makes
11.Upgradeable via web-based download
V. Xtool X100 pro Specification:
Operating System:                               Android 4.4.4
Memory:                                                2GB
CPU:                                                       ARM7
Display:                                                  Backlit, 160 x 160 pixel mono-color   screen with contrast adjustment
Power Voltage:                                      DC 12V
External Power:                                    8~18 Volts via DLC
Operating Temperature:                     -20 to 50℃(-4 to 126℉)
Humidity:                                              <90%
Dimension:                                            19.2cm(L) *9.3cm(W) *2.9cm(H)
VI. X100 Pro Key Programmer Packing List:
1pc x X-100 Tablet
1pc x OBDII 16Pin Adapter
1pc x Honda-3
1pc x Kia-20
1pc x Kia/Hyundai-10
1pc x Power Adapter
1pc x EEPROM Adapter
1pc x EEPROM IC Board
1pc x EEPROM Package Box
1pc x Test Main Cable
1pc x Mirco USB Cable
1pc x User's Manual
VII. What are the difference between XTool x100 pro auto key programmer and the other auto anti matching equipment?
The main function of the other equipment is suitable for auto locksmith, and just can do key matching. But x-100+ x100 pro auto key programmer is not only for locksmith, it is including the customers from the workshop. The workshop not only use the key matching, they also replace the anti safe ECU and renew the engine ECU. But the other equipment, for example T300,T500… cannot do these.
VIII. Xtool X100 pro auto key programmer photo