X100 PAD Elite Description
X100 PAD3 ( X100 PAD Elite ) is a professional tablet key programmer which not only provides customers with key programming, but also supplies advanced special functions. Equipped with KC100 key programmer, X100 PAD Elite can perform: Key programming, oil service light reset, timing belt service light reset, tire pressure warning light reset, EPB reset, throttle body reset, DPF reset, battery reset, steering angle calibration and OBD-II engine diagnosis, etc.
Free update online for 2 years.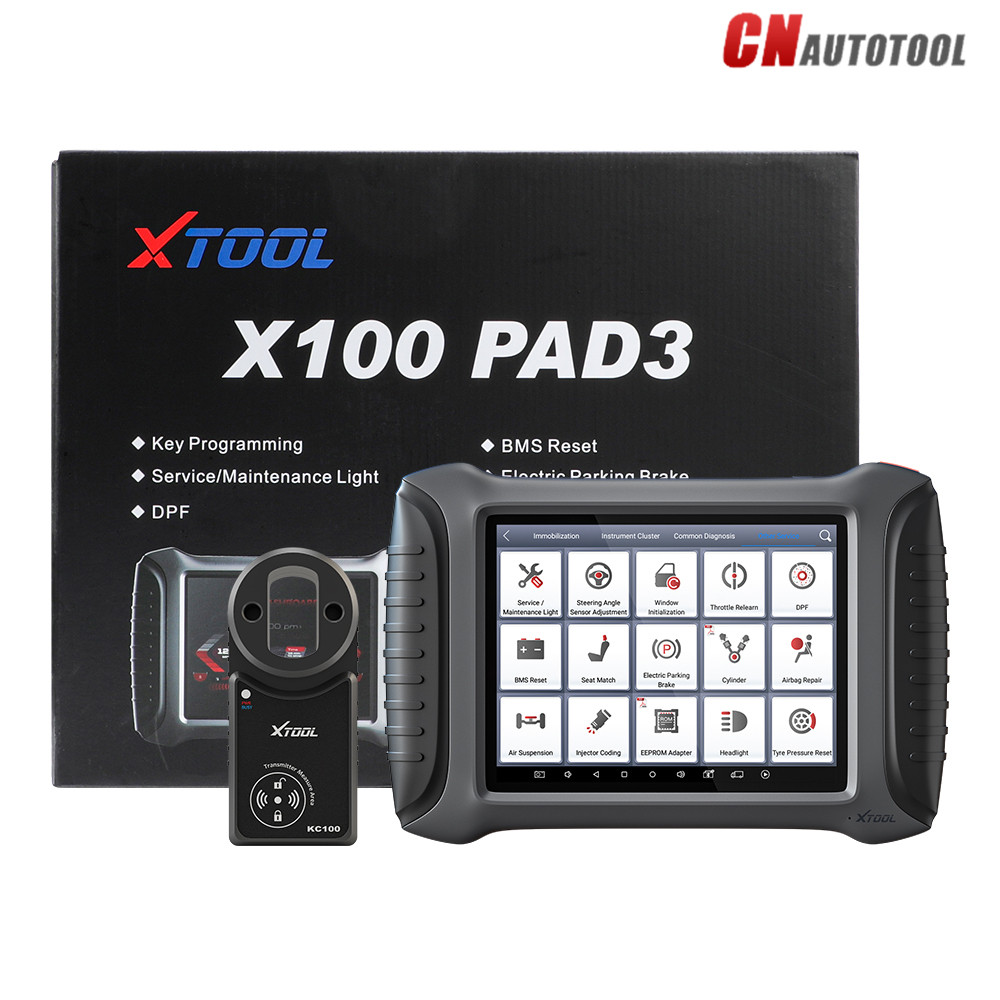 XTOOL X100 PAD3 X100 PAD Elite Auto Key programmer with KC100 and EEPROM Adapter
X100 PAD3 Functions:
* Key programming
* Oil Reset/Engine oil light reset
* Odometer Adjustment
* Tire Pressure Warning Light Reset (Manual Operation)
* Timing belt light reset (Manual Operation)
* EPB Electrical Parking Brake Adaptation
* TPS Throttle Body Adaptation
* Steering Angle Sensor Calibration (SAS)
* Battery Reset (BMS)
* PIN Code Reading
* Hexadcimal editor (Win Hex)
* OBDII Diagnosis
* Injector coding
* Window Initialization
* EEPROM Adapter
* DPF
* Seat Match
* Airbag repair
* Support the latest vehicles with CAN BUS and UDS protocol
* Update Via WIFI (always equip your device with the latest software)
*More….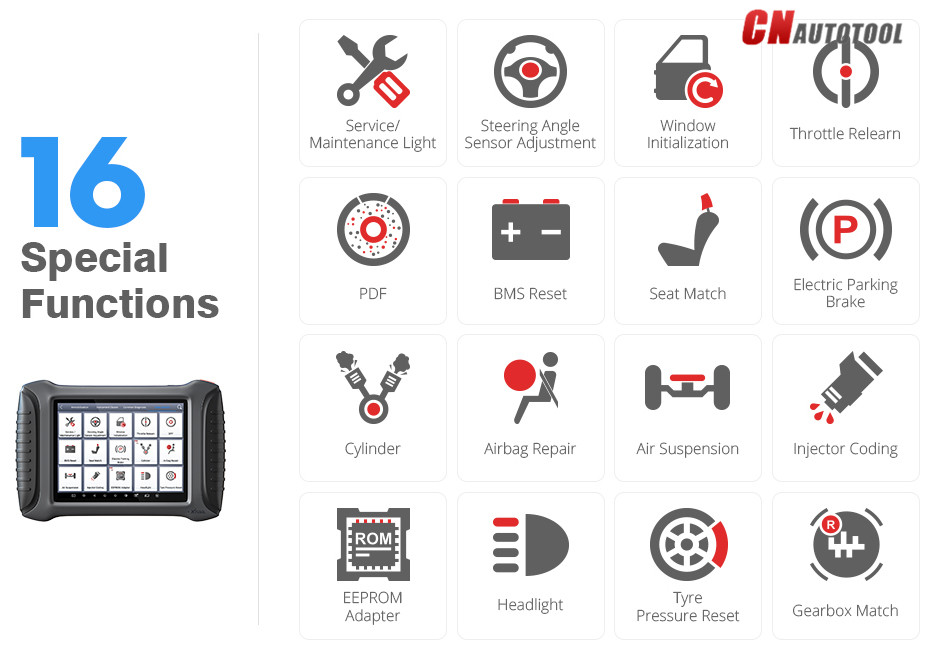 Key Programming Features:
1.New keys programming
2. PIN Code reading with EEPROM
3.Hexadcimal editor(Win Hex)
4.Reads keys from immobilizer's memory
5.New immobilizer programming
6.Vehicle Identification Number programming
7.Reset ECM & reset immobilizer
8.New remote controller programming
9.With full and strong database for the most important vehicle makes
Key Programming Vehicle Coverage:
Asia:  for Toyota, for Lexus, for Honda, for Acura, for Mazda, forNissan, for Infiniti, for Mitsubishi, for Subaru, for Suzuki, for Kia, for Hyundai, for Daewoo, for SSANGYONG, for Proton, etc
Europe: for Audi, for VW, for Skoda, for Seat, for Porsche, for Opel, for Citroen, for Peugeot, for Jaguar, for Land Rover, for Lincoln, for Renault, etc
America: forGM,for Cadillac, for Buick, for Chrysler, for Ford etc
China: for Great Wall, for Chery, for Brilliance-auto, for Geely, for LIFAN, for HAFEI, for CHANGAN, for LANDWIND, for BYD,for  BYD , for JAC, etc.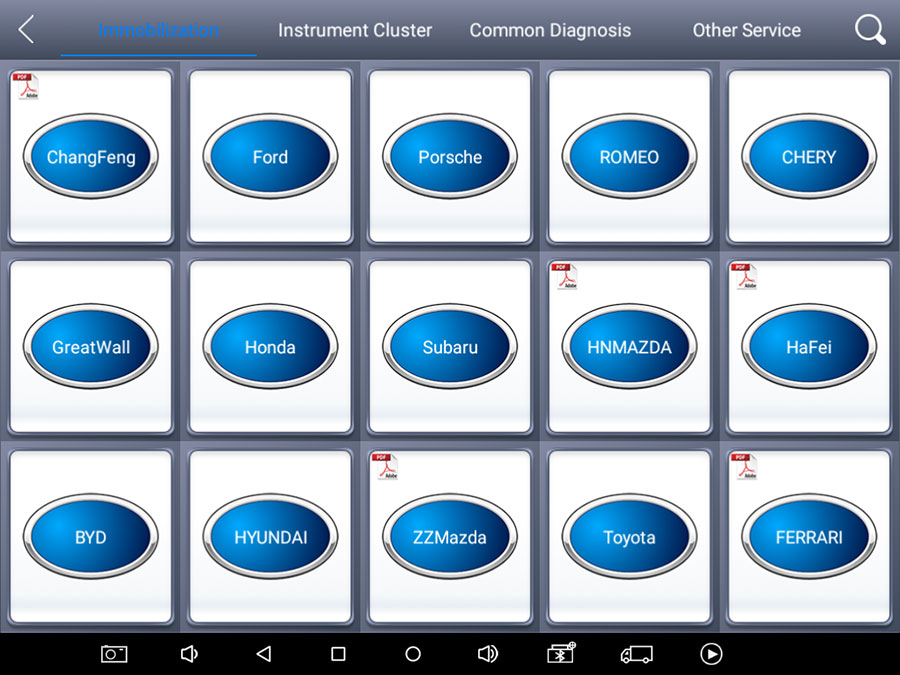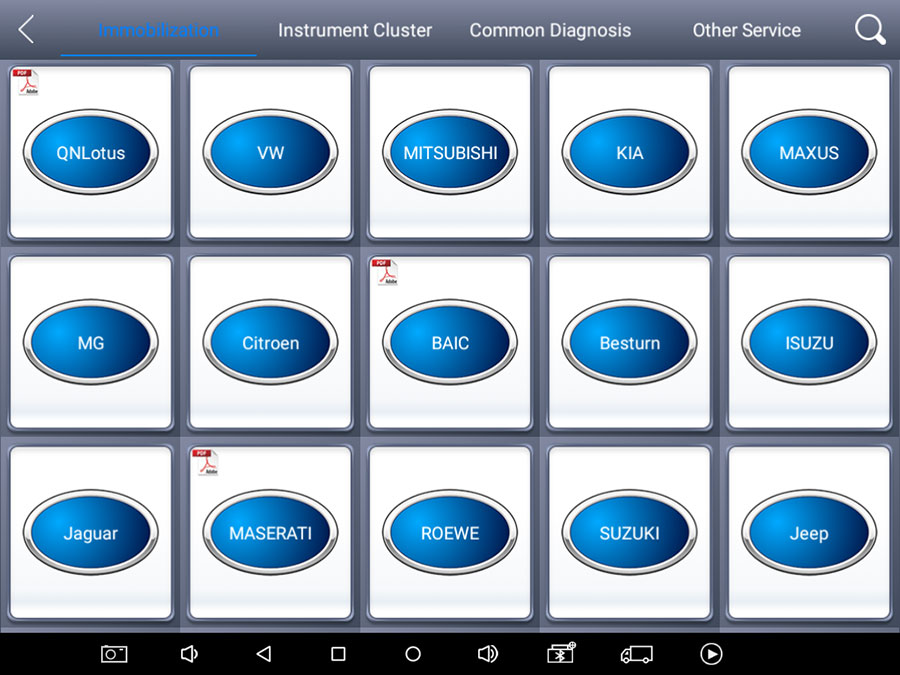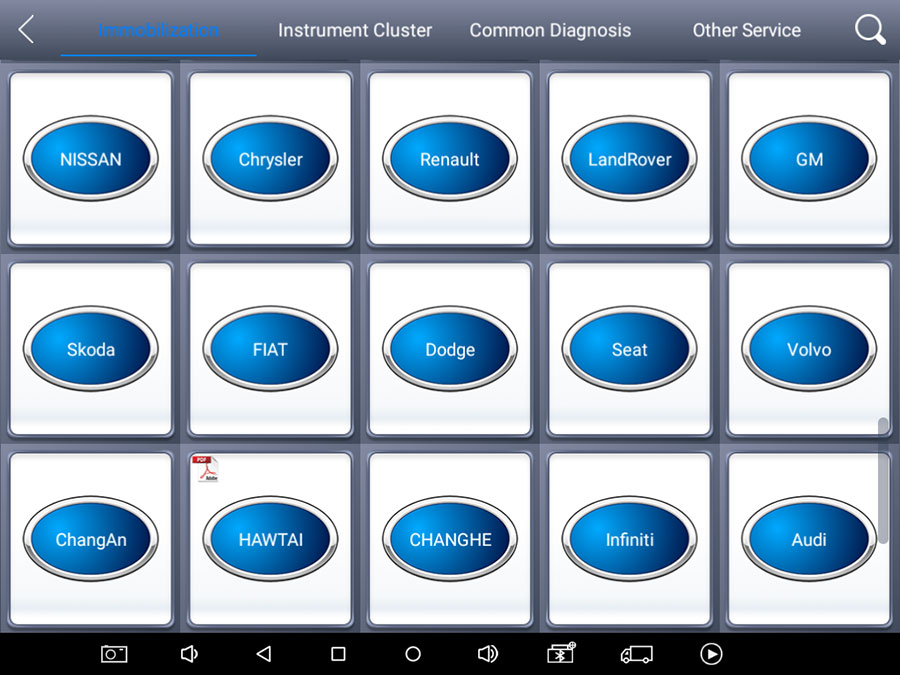 Oil Reset Functions Feature:
Innovative one-click oil reset for for VW, for Audi, for BMW, for Mercedes for Seat, for Skoda, for Volvo, etc.
Support engine oil, spark plugs, front brake pads, back brake pads, air conditioner, brake liquid, coolant liquid, vehicle checking , etc. resetting for BMW. And the supported for BMW models are F01 F02 F03 F04 F07 F10 F11 F12 F13 F18 F20 F30, etc.
Support for Mercedes for Benz new C Class, E Class models and for Mercedes Benz VITO, for VIANO, for SPINTER.
Support the lifespan percentage resetting of engine oil for Buick, for Cadillac etc.
Support for Porsche Cayenne, for Panamera till 2012
Support for maintenance light reset for Volvo, for Land Rover.
Oil Service Light Reset Coverage:
America: for Buick, for Cadillac,for Chevrolet, for Chrysler, for Chevrolet, for GMC, for Ford, for Mercury, for Lincoln, for Oldsmobile, for Pontiac, for Saturn, for GM, for Jeep and more…
European: for VW, for Audi, for Porsche, for BMW, for Mercedes-Benz, for Volvo,for  Land Rover, for Peugeot, for Citroen, for SAAB, for Seat, for Skoda and more…
Asia: for Toyota, for Lexus, for Nissan, for Infiniti, for Honda, for Acura, for Isuzu, for Chery, for Ford Transit, for Roewe, for MG and more…
Odometer Adjustment:
for VW, for AUDI, for SEAT, for SKODA, for BUICK, for CADILLAC, for CHEVROLET, for CHRYSLER, for FORD, for MAZDA, for NISSAN, for SUZUKI, for KIA, for HYUNDAI, for JAGUAR, for LAND ROVER, for PORSCHE and more…
EPB Electrical Parking Brake Adaptation:
for VW ( R36, CC, Magotan etc.), for Audi ( A4L, A6L, Q5 etc.), for Seat, for Skoda and more…
Tire Pressure Warning Light Reset (Manual Operation):
for Mercedes-Benz, for GM, for  VW, for BMW, for Toyota and more…
Timing Belt Light Reset (Manual Operation)
Specification :
Operating System: Android 5.1.1
Memory: 2GB RAM,64GB Flash
CPU: Quad Core, 1.8 GHz
Display 8.0 Inch IPS 5-Point Multi-touch Screen with 1024×600P Resolution
Sensors: Gravity Sensor, Light Sensor
Input/Output: Microphone, Dual Speakers, 3.5 mm headset jack, Mini HDMI Port, 2.0USBPort, TF Card Port
Battery: 10000mAh, 7.4V
Wi-Fi WIFI 2.4Ghz
Bluetooth 100 Meters
Power Voltage: 12V
Power Consumption: 29.6W
Operating Temperature: -20 to 50℃(-4 to 126℉)
Humidity: <90%
Dimension:(L*W*H): 240*177*30m