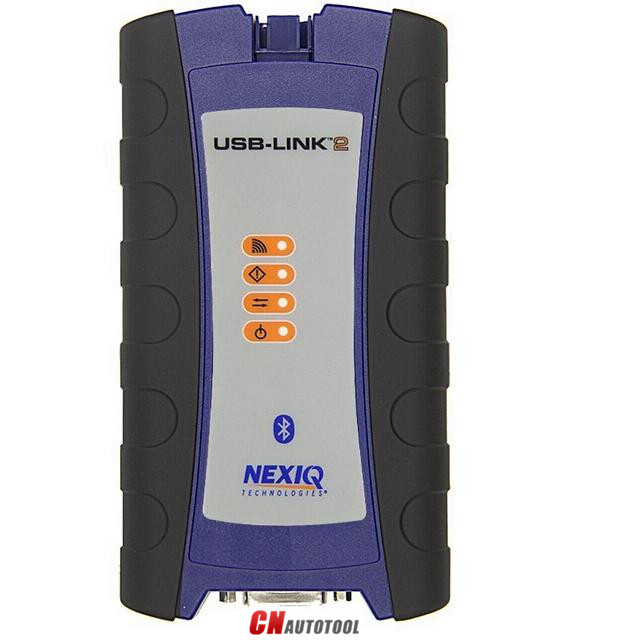 The USB-Link 2, the next generation vehicle interface from NEXIQ Technologies, has arrived. Dependable and rugged, the new USB-Link 2 is five times faster than its predecessor. It has sixteen times more random access memory than the old USB-Link, and it supports heavier bus loads on simultaneous channels.
The Bluetooth module supports wireless communication via an enhanced data rate (500K b/s J1939). For even more reliability, we've upgraded the USB connector to a more robust, automotive grade connector with a latching mechanism. The USB-Link 2 is compatible with a wide range of OEM software applications.
The USB-Link 2 comes with the following:
* Latching USB Cable (PN 404032)
* 9-Pin Deutsch Adapter, 1 Meter (PN 493128)
* J1962 Adapter (16-Pin OBD II, 1 Meter (PN 493113)
Note: For best results, Class 1 (100 m range) Bluetooth® USB adapters are recommended. Class 1 adapters are recommended because of their greater operating range. See PN 405001 in the list of Accessories below.
The USB-Link 2 is also available with Wi-Fi. Wi-Fi Edition: PN 124034
Usability
The USB-Link 2 uses Bluetooth v. 2.1 (a.k.a. Bluetooth Classic). Why? Because v.2.1 is the fastest Bluetooth method for transferring data; it also provides single, secure pairing.
Class 1 Bluetooth provides up to 100 feet of wireless freedom.
Flexible configuration supports wired or wireless connectivity.
Compatible with applications that diagnose engines, transmissions, ABS, instrument panels and more.
Reduce reprogramming times with direct USB connection.
Mixed fleet capabilities with broad protocol support.
Quick access to vehicle data for maintenance or management reports.
Quickly attaches to vehicle's diagnostic connector.
No messy cables to untangle or get in the way with Bluetooth.
Easy portability increases flexibility.
May be used with desktop PC or laptop.
Features
RP1210A, RP1210B, RP1210C, RP1227, and J2534 API support
Bluetooth vehicle-to-PC wireless connectivity
USB vehicle-to-PC connectivity
Supports Windows® 7 , Windows® 8, and Windows® 10 (all three in both 32 & 64 bit versions)
Made for iPhone, iPad
"Made for iPhone" and "Made for iPad" mean that an electronic accessory has been designed to connect specifically to iPhone or iPad, respectively, and has been certified by the developer to meet Apple performance standards.
Apple is not responsible for the operation of this device or its compliance with safety and regulatory standards.
Please note that the use of this accessory with iPhone and iPad may affect wireless performance.
iPhone and iPad are trademarks of Apple Inc., registered in the U.S. and other countries.
Works with Android™
Heavy Duty Vehicle Protocols
3 CAN – J1939/CAN125/CAN250/CAN500/CAN1000
Automatic bit rate detection for all standard CAN channels
Single Wire CAN
Fault Tolerant CAN
J1587/J1708
J1850
ISO 15765 (Diagnostic CAN)
ISO 14230 (KWP2000 over ISO9141)
J2534
ALDL
ATEC 160 (160 baud)
Compatible Software
Detroit Diesel Diagnostic Link
CAT Electronic Technician (On-Highway only)
Cummins Insite
International – ServiceMAXX Fleet Pro
Hino eXplorer
Volvo PTT
VCAD Elite Mack/Volvo
V-MAC Service Tools
Allison DOC® For PC-Service Tool – Protocols Supported: J1939, J1708/J1587, and J1850
Allison DOC® For Fleets (1000/2000) – Protocols Supported: J1939, J1850
Allison DOC® For Fleets (3000/4000) – Protocols Supported: J1939, J1708/J1587
Eaton ServiceRanger
Bendix ACom
WABCO Toolbox
Freightliner ServiceLink
International ABS
International DLB
International Intune
International IPC v2.02
PACCAR DAVIE4
packing list :
NEXIQ-2 usb-link  main interface
441013 ; OBD II Adapter
444009 ; J1962 OBD II Adapter
402048 ; 6- and 9-pin Deutsch Adapter
442022 ; Volvo 14-Pin Adapter
442020 ; Volvo 8-Pin Adapter
442021 ; Komatsu 12-pin Adapter
448015 ; CAT 9-Pin Adapter
441033 ; 3-pin Deutsch Adapter(with male and female connector)
USB cable
CD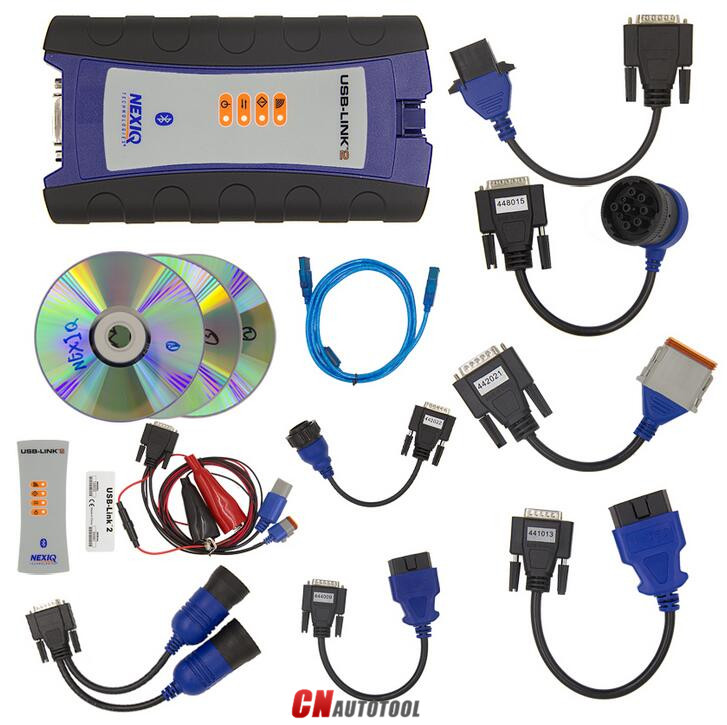 More information at https://www.cnautotool.com/category-39-b0-Heavy+Duty+Diagnostic.html