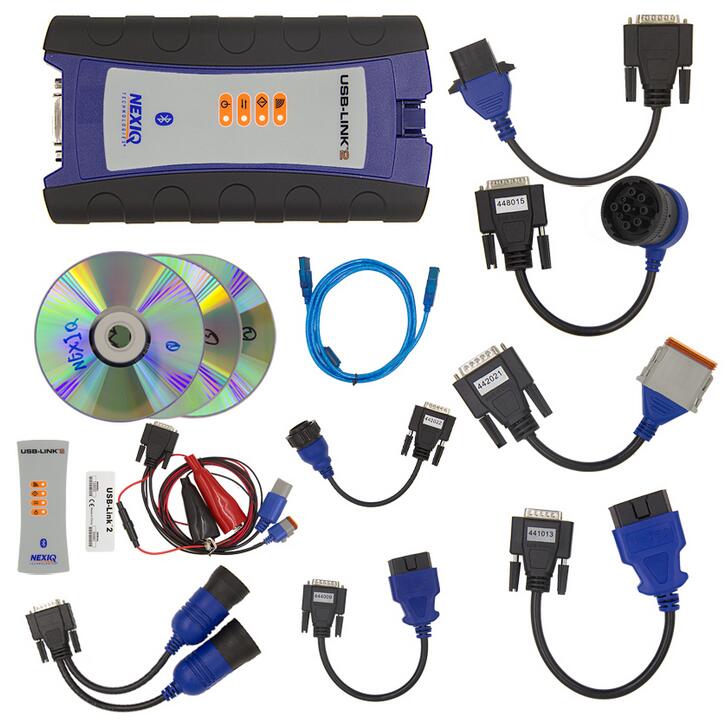 The Nexiq USB Link 2 is a diagnostic, vehicle to PC adapter, that can be connected up to a desktop PC or laptop in order to run system tests and diagnose vehicle problems. The Nexiq USB Link 2 can be connected either by a USB cable, or over bluetooth. The inclusion of bluetooth is an excellent feature and the removal of annoying cables and wires really makes using the device a more pleasant experience. If you don't have bluetooth though, the USB connection is still more than adequate for running vehicle tests.
The Class 1 bluetooth connectivity provides up to 100 feet of wireless freedom and range from the diagnostic tool. This means the mechanic can walk around the vehicle they are servicing, and can investigate vehicle components more closely. Not being tethered to a cable is quite a big advantage when running servicing jobs.
Like all good scan tools, the Nexiq USB Link 2 can read and clear error codes quickly and accurately. In fact, the USB Link can read all J1939, J1708, J1687 protocol error codes, among many others. This range of compatibility is ideal for mechanics who are dealing with many different trucks and heavy duty vehicles every day, and provides good mixed fleet capabilities. The Nexiq USB Link 2 will read error codes, and then give a quick summary on why the code is being displayed. This is a big time saver for mechanics since they don't have to research an error code every time one comes up, the Nexiq will do that for them.
Once a mechanic has fully completed a repair, they can then use the USB Link 2 to clear the offending error codes and reset the vehicle to its original state. This is an extremely useful feature and is one of the main reasons why mechanics and garages choose to invest in diagnostic scan tools. The Nexiq USB Link 2 can also be used to reset vehicle warning lights, such as the check engine light, and the tire pressure monitor warning. Again this feature is a post-repair function, which is used to reset the vehicle after it has been fixed.
The error code reading is helped by Nexiq's automatic VIN reading capabilities. Auto VIN reads a vehicle's VIN number as soon as the USB Link 2 is plugged into the diagnostic port. This tells the USB Link 2 a range of different information about the truck, such as its make, model and year of manufacture. This means that the USB Link can read error codes more efficiently, since it knows which kind of vehicle it is dealing with. This feature is also useful for fleet managers who are buying new vehicles since it lets them see the true age of a truck before they buy.
One of the most useful features of the USB Link 2 is its live data stream feature. A lot of the top diagnostic tools have a live data function, and it is something mechanics always look out for when they are buying a new tool. The live data stream displays vehicle data and information in real time. This lets a mechanic really get to the bottom of where a problem is coming from and lets them get on with repairs as quickly as possible. Live data reports on things like fuel trims, throttle position, oxygen sensors and much more.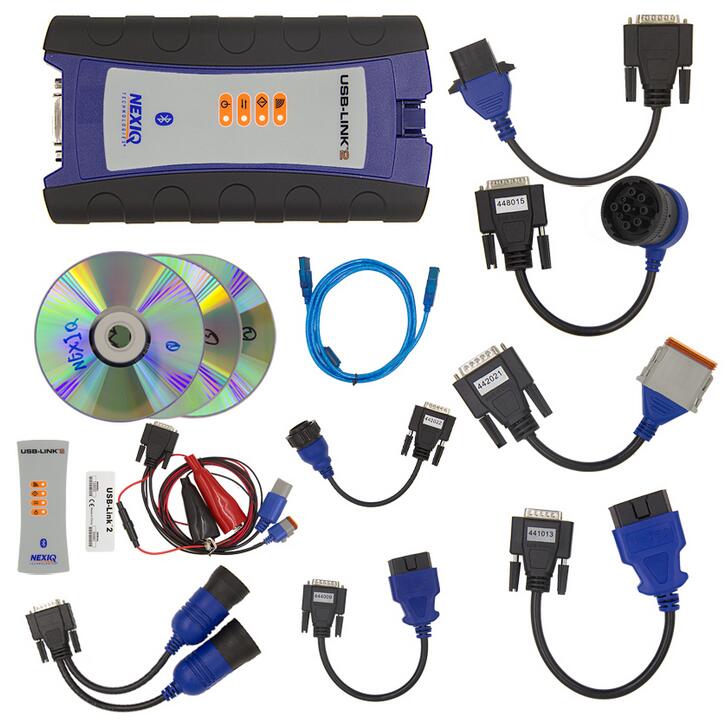 The Heavy Duty Truck Scanner USB Link 2 vehicle interface can connect up with any diagnostic app that you download to your desktop PC or laptop. Nexiq don't have their own diagnostic app, so the user has a lot of freedom to choose which kind of application they want to use. Some apps are built with heavy duty vehicles in mind, whilst others are made for a variety of different vehicle types and vehicle brands. When choosing your app, just make sure it's going to be able to do everything that you need it to.
Depending on the quality of the app that you download, you might be able to make use of the USB Link 2's freeze frame data feature. This function takes a snapshot of vehicle and sensor information at a specific moment in time, which can then be saved for later use or for comparison with other freeze frame data. You can also overlay freeze frame data using a graphing function, which provides an easy to understand display of the data.
Within the live data menus, you can also view information from across the vehicle's lifetime, as well as its most recent trip. This is called Live/Trip and is a particularly useful feature since it lets the user see if their vehicle is currently performing as well as it has over a longer period of time. Then a mechanic can work out whether a problem has developed recently, or if has been a long term issue.
The Nexiq USB Link 2 vehicle to PC tool has clearly been designed with easy portability as one of the main concerns. The device itself is small and lightweight, and can easily slip into a pocket to take on the go. Having said that, it's not so small that you'll be losing all the time, and it comes with a handy carrying case for the device and cables if you'd rather use that. The USB Link 2 is very easy to use and plugs straight into a heavy duty diagnostic port. It's well built and durable, so it will survive any accidents that are bound to happen in a busy workshop.
For some extra peace of mind, Nexiq also include a one year warranty when you buy a USB Link 2. This is a nice inclusion, and means that if your device arrives with defects, or problems develop with the USB Link 2 that aren't your fault, then your USB Link will be replaced by Nexiq for free.
Overall, the USB Link is a great option for mechanics and fleet managers dealing with a range of different vehicle makes and models. The Class 1 bluetooth connectivity makes the Nexiq USB Link 2 easy to use and versatile for many different situations and the USB Link 2's impressive range of functionality really helps it stand out from the crowd.
Compatibility
The Nexiq USB Link 2 is compatible with a large range of trucks and other heavy duty vehicles. Specifically, it works with nearly all truck makes and their vehicles that were built in or after 2004. It also works on a range of medium sized HGVs and small truck triage, again if they are built in 2004 or later. This is quite impressive coverage, since many service tools are only compatible with a handful of different vehicle makes.
The fact that this device works with the vast majority of truck brands really sets in apart from some of its competitors and gives it great mixed fleet capabilities.
Compatibility is important when looking for a new vehicle scanner, especially if you are a professional mechanic that is working with a variety of different vehicles every single day. You want a tool that will be compatible with whatever is brought into the workshop next. Having one that is only compatible with a few makes is not really worth it in a professional workshop.
In essence, the USB Link 2's impressive coverage of vehicles from around the world will mean that you'll be able to use it on nearly all your repairs. This will save a lot of time in the long run, saving money in labour costs and also meaning that you can complete more jobs every day. Definitely consider compatibility when searching for a new workshop tool.
Functionality
As we've already seen, the Nexiq USB Link 2 drivers tool has a big range of features that can be used on a variety of heavy duty vehicles and brands. In this section. we'll go more in depth into some of the tool's best features so that you have a better idea of what the Nexiq USB Link 2 can do before you decide to buy.
Read and clear error codes
The USB Link 2 is a very effective trouble code reader. It will quickly and accurately understand error codes, and give the user a brief description of where the error is coming from. This feature can really save a lot of time and money for the mechanic since they don't have to research each and every error code every time it comes up. The error code reading is completed very promptly, even over bluetooth, and will show error codes from across different vehicle systems.
After a mechanic has completed any repairs on the systems that were producing error codes, they can then make use of the error clearing function on the USB Link 2. This function will clear problem codes from the system, effectively resetting the vehicle to its usual state. This is important because a mechanic needs to know when a new problem develops, and if error codes haven't been cleared, then they won't be able to show up again if the problem reappears.
Although code reading is a basic function for most diagnostic scan tools, the way that the USB Link 2 deals with them is effective and efficient. You won't be waiting around for the process to be completed, the device will almost immediately highlight errors and provide information about them.
Automatic VIN reading
An intuitive feature of the USB Link 2 is its automatic VIN reading function. This function quickly scans the vehicle as soon as it is inserted into the diagnostic port, and can recognise a range of information about the vehicle. Usually, the USB Link 2 can tell the user about the make and model of the truck, and its year of manufacture. For some vehicle makes, you'll also be able to view information about the engine, such as its own year of production and manufacturer details.
This function not only assists the USB Link 2 in its vehicle diagnosis, but is also great for fleet managers who are regularly buying new trucks. Unfortunately, people don't always advertise their vehicle's truthfully, but having the USB Link 2 in your back pocket means you can quickly check everything is as advertised.
Live Data
The live data function on the Nexiq USB Link 2 is as good as a lot of more expensive scanners out there, and reports on an impressive range of real time vehicle data that would be very hard to find out without the USB Link. The USB Link 2 will read live data from the fuel trims, engine, fuel injection, catalytic converter, emissions system and much more. A really great way to use live data is to actually input vehicle functions and see how the data changes.
For example, the mechanic could press the accelerator whilst the live data stream is connected, and watch to see how the values change. If the engine RPM is too high, or the fuel trims are using too much fuel, then the mechanic can quickly locate these problems and start on repairing them.
The USB Link 2 also has freeze frame data functions which can be combined with live data for easy vehicle information comparison. The freeze frame data function takes snapshots of your truck at different moments in time. For example this could be at the moment you press the accelerator, which would show the mechanic if there are any problems with the throttle system.
Bluetooth
The fact that the USB Link 2 uses Class 1 bluetooth, which provides up to 100 feet of wireless freedom, really takes this vehicle to PC device to the next level. Being able to walk around vehicles without getting wrapped up in cables is a real bonus. After using a bluetooth USB Link, you'll never want to go back to a wired one again.
The USB Link 2 connects via bluetooth to any desktop PC or laptop, and you can also use the direct USB connection if you don't want to use bluetooth for any reason. All the functions still work the same via a wired connection, you just don't have the same freedom to move around. This isn't a deal breaker though, since the USB Link 2 is still a great diagnosis tool even via the USB connection.
Design
The Nexiq USB Link 2 is very well designed, with a simple yet durable construction. The hard plastic shell is accented with rubber for extra grip and to stop the device slipping through your fingers. The scan tool is built with easy portability in mind, and as such has quite a small footprint. It is also pretty lightweight so you can put it in your pocket without any issues.
It comes with a nice carry case to protect the USB Link 2 if you are taking it on long journeys. Nexiq also include a one year warranty when you buy one of their USB Link scan tools, which will protect you if the device is faulty or develops some unexpected defects.
Key Features
Live Data
Nexiq's premium live data feature elevates the USB Link 2 beyond its affordable price point. Live vehicle data is an extremely popular tool amongst mechanics, and they often won't buy a scan tool that doesn't offer it. The live data is equally as effective whether connection is made via the Class 1 bluetooth, or through a USB connection.
Auto VIN reading
The USB Link 2 will automatically read your vehicles' VIN numbers, which will tell the device the make and model of the vehicle, as well as its true year manufacture. You'll also be able to view in depth engine information.
Engine Diagnostics
The Nexiq USB Link 2 vehicle to PC diagnostic tool has fantastic engine diagnosing skills and can read and clear a variety of supported J1939, J1708 and J1587 protocols. This gives the device great mixed fleet capabilities and is one of the best service tools for dealing with a variety of different trucks and heavy duty vehicles.
Bluetooth
The USB Link Nexiq device's Class 1 bluetooth technology provides up to 100 feet of wireless freedom. This allows mechanics and owners to walk around vehicles as they complete repairs. When this is combined with the easy portability of the Nexiq USB Link 2, then it becomes clear how versatile this vehicle interface really is. It's worth noting that the USB Link 2 still works well with USB connection however.
The Verdict
In conclusion, the Nexiq USB Link 2 is one of the best service tools out there for any mechanics or fleet managers who need a tool with great compatibility and a wide range of useful features. The Nexiq USB Link 2's wireless connectivity maybe even gives it an edge over a lot of its competitors. We highly recommend this vehicle to PC scan tool to professionals and fleet managers everywhere.