Eobdtool.co.uk gather Xtool X100 Pad2 feedback on what is working. Generally speaking, it works great on many car models.
Here we go from one vehicle to another one:
Citroen c3 2008 read pin code and add key okay
Citroen c4 2010 add key okay
Chevy:
onix 2014 add key okay
cruze 2013 add key okay
cobalt 2015 add key okay
open/Chevy:
montana 2009 read pin code and add key okay
corsa c 2010 brazilian model add key is okay
Ford:
fiesta 2011 add key okay
focus 2012 add key okay
focus titaniun 2014 add key okay
Renault:
sandero 2014 (old version) add key okay,
sandero 2009 , add key okay
kangoo 2011 add key okay,
Peugeot:
207 2010 add key okay
206 2007 add key okay
Honda:
civic 2011 add key okay
civic 2007 add key okay
Honda civic 2002 id48 add key ok!
VW:
golf 2003 read add key okay
gol 2012 g5 add key okay
voyage 2009 add key okay
santana 2005 add key okay
parati 2007 add key okay
fox 2008 add key okay,
Vw Sharan 2003 add key ok
Vw golf4 2001 no pin code reading, program key ok.
Vw Passat 2004 read pin code ok program key ok!
Added a key on a Skoda Octavia 2009.3 mins job
Fiat uno way 2013 dash ,, read pin code, make a dealer key , and add key is okay,
Ford C-max 2011 add key ok.
Dacia sandero 2016 key and pin code okey.
Dacia Sandero Stepway 2012 program remote ok. You have to read pin first and it's the pin 2 the one that's needed for programming.
Toyota corolla 2015 Brazilian version okay
Toyota hilux 2013 transponder g ok
Toyota 4 runner 2012 4d67 ok
blazer 2014 okay add key ,
Honda hr 2015 add key okay
Kia sportage 2015/16 add key okay
Hyundai hb20 2016 add key okay ,
fiat uno 2007 , key prepared by effi and added by pad 2 obd connection + pin code,,
fiat palio fire economy 1.0 year 2010 key added by pad 2 ,, same as fiat uno
fiat strada , 2009 and 2008 ,, same as uno and palio
all them imobox 1k59h,,
fiat doblo 2003 , key prepared by effi and added by pad 2
fiat siena 2001 , key prepared by effi and added by pad 2
fiat palio wekend 2002 key prepared by effi and added by pad 2
all them same body computer ,, 93lc66 ,,
big motherboard and small motherboard,
Fiat:
palio 2005 bc 1k79x
palio 2011 bc 1k79x
siena 2007 bc 1k79x
strada 2009 bc 1k79
all them added key okay by obd +pin code,, key prepared by zed bull + effi,,
Fiat gran siena 2014
key prepared by effi+upa+zed bull ,
and key added by pad2 by obd ,,
bcm 326 g .,
Mitsubishi asx 2013 , transponder prepared by handy baby
and added by pad 2
LR Sport 2009 add Chinese remote key OK
RAM 1500 2012 add Fobik OK
Nissan note 2015 ok
Clio 2 ph2 2005, auto pin and program 7946: OK
Scenic 2 2006, auto pin and program card: OK
Scenic 2 2009, read pin but wrong, use FnR to finish the card.
Mazda bt50 2017 odometer change work!!! in 30 seconds.
I've did several Megane Scenic 2 before 2008 very well. After 2008, Xpad2 read wrong pincode.
But with correct pin, it program OK card.
It works 100% on renault 2015+ in Brazil.
Seat altea 1.9 tdi 2008 add new remote (wich is programed by vvdi tool) succes!!
key adding nit tryed( don't have pin pin read fail) new id48 copyed by silca rw4+.
Megane/scenic (2006 check one more time) read pin code ok ,add key card success.
Peugeot 207 2006 add new key/remote success.
Nissan Navara 2009. Read BCM code ok program key communication fault. I finished work fvdi 2014.
Renault logan 2006 chip with preload you do not have to take pincode.
2010 Peugeot 206 read pin code ok, add key ok!
2009 Vauxhall Astra add key not working
2010 VW Tiguan mileage adjustment works but out by 200 miles ( 5 mins start to finish )
Both UK cars.
2010 VW Tiguan added and remote ok
Beware xtool 100 pad 2 big draw on battery advise battery kept stable while using.
206+ 2010 add remote key: F108, Autek IKey820 failed read pin.
X100 pad 2 read pin in 2 minutes.
Program remote key Ok. Under system 3(K)
xsara picasso 2005 year read pin code (type3 K)ok program key ok!Better than x300dp plus!
Remote key with pcf7936.
Mazda 3 2008 Synchronization ecu immo ok
Ford ranger transponder 80 bits ok
Ford Mustang 2013 add key ok!
Citroen Berlingo 2008year read pin code (type3)ok,add remote key ok!
It could read pin even Akl, tested.
Kangoo 2 2014 wrong pin, ikey 820 failed too and solved with FVDI2014 in 3mn remote key 7946.
smart fourtwo 2012…add (3 button) key all ok.
25th January, 2019 update:
New update for Renault release. Add support upto 2016 (Master3) Twingo 2 upto 2014.
Megane/Scenic, Laguna from 08-, but no one know if Megane 3 is supported.
Dacia upto 2013.
Chevro Lacetti 2008 AKL OK. Need 2x ID60 ( remote use KD)
Clio 3 remote key 7947: OK
Disco 4, add smart OK ( Hitage Pro)
Toyota Quantum add H key OK.
Ranger 2017 Hitag Pro: add key OK
Vauxhall Combo 2014 add remote key OK ( use Fiat Fiorino, read pin, precode PCF7946)
Berlingo 2007 AKL, read pin and program OK.
Golf 2010 4th immo: NEC + 24C32, read immo data, make dealer key OK.
Ford EcoSport 2015 non bladed key programmed transponder and remote OK
All keys lost.
Golf 7 MQB key, add key with KC100: OK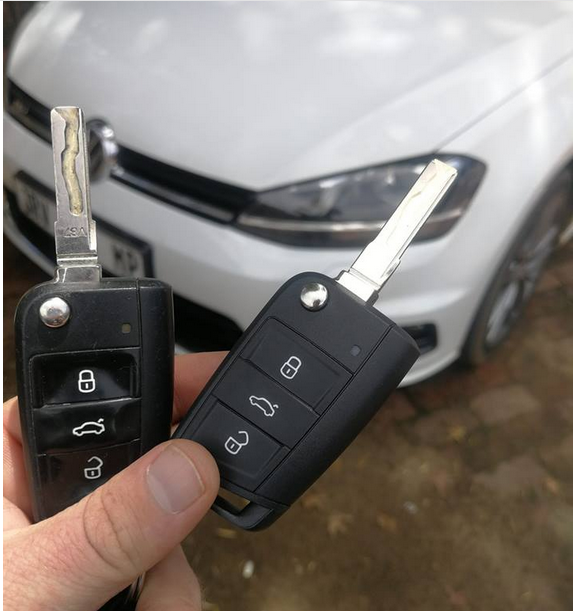 ford transit 2011 europe
add blue key ok
2012 Toyota Camry ok
2015 Mazda 3 adding smart key ok
Tested all Renault in menu , last update resolve all bugs , very good tool for French cars ( including PSA )
Kangoo 2 ; key programming OK
Megane 2 ; card program OK
Twingo 2 ; key programming OK , remote control OK
Clio 3 ; key programming OK
Master 3 ; Key programming OK
Golf 6 2010, copy thansponder OK, read immo data OK, make dealer key OK.
Common chinese id48 blank with kc100
2015 JEEP Grand Cherokee – read code + added key Hitag2 proximity OK !
Xtool Pad2 reviews is temporarily updated here, more will be updated…
Xtool X100 for sale at March, 2019: