Description: John Deere Service Advisor Agriculture workshop service manual, repair manual, electrical wiring diagram, hydraulic diagram, diagnostic, assembly and disassembly engine, transmission.
Description: John Deere Service Advisor EDL (Electronic Data Link) heavy duty diagnostic adapter for construction equipment, agriculture, engines John Deere.
John Deere EDL v2, v3 – Good truck diagnostics device with European Union quality
John Deere Service Advisor Electronic Data Link (EDL) is the dealer diagnostic PC-to-vehicle interface compatible with Service ADVISOR software. With Service ADVISOR you can view service manuals, use DTAC (Technical Assistance Center) data, make diagnostics, readings, tests and calibrations, re-program controllers.
The John Deere diagnostic adapter for the diagnosis of special equipment and agricultural machinery John Deere and works in conjunction with the Service Advisor EDL (Electronic Data Link) software. The adapter allows you to diagnose construction and agricultural machinery, as well as John Deere engines.
Functionality:
Reading fault codes from an ECU equipped with John Deere ICE technology, decrypting and erasing them
Making changes to service parameters
ECU programming, flashing, and calibration
Implementation of tests of systems and actuators, as well as many other operations.
Supported Brands:
BELL (CFHIST)
CASE (AG)
Euclid (CF)
Frontier (AG, CCE)
GreenSystem (AG)
Hitachi (CF, CFHIST)
John Deere (AG, AGHIST, CCE, CF, CFHIST)
Timberjack (CF, CFHIST)
Waratah (CF, CFHIST)
XCG (CF, CFHIST).
Equipment:
John Deere Diagnostic Adapter
USB cable for John Deere
9 pin Deutsch cable for John Deere.
Package including:
1pc x Electronic Data Link v2
1pc x USB cable
1pc x 9-pin Deutsch adapter
1pc x AG or CF or CCE software (optional )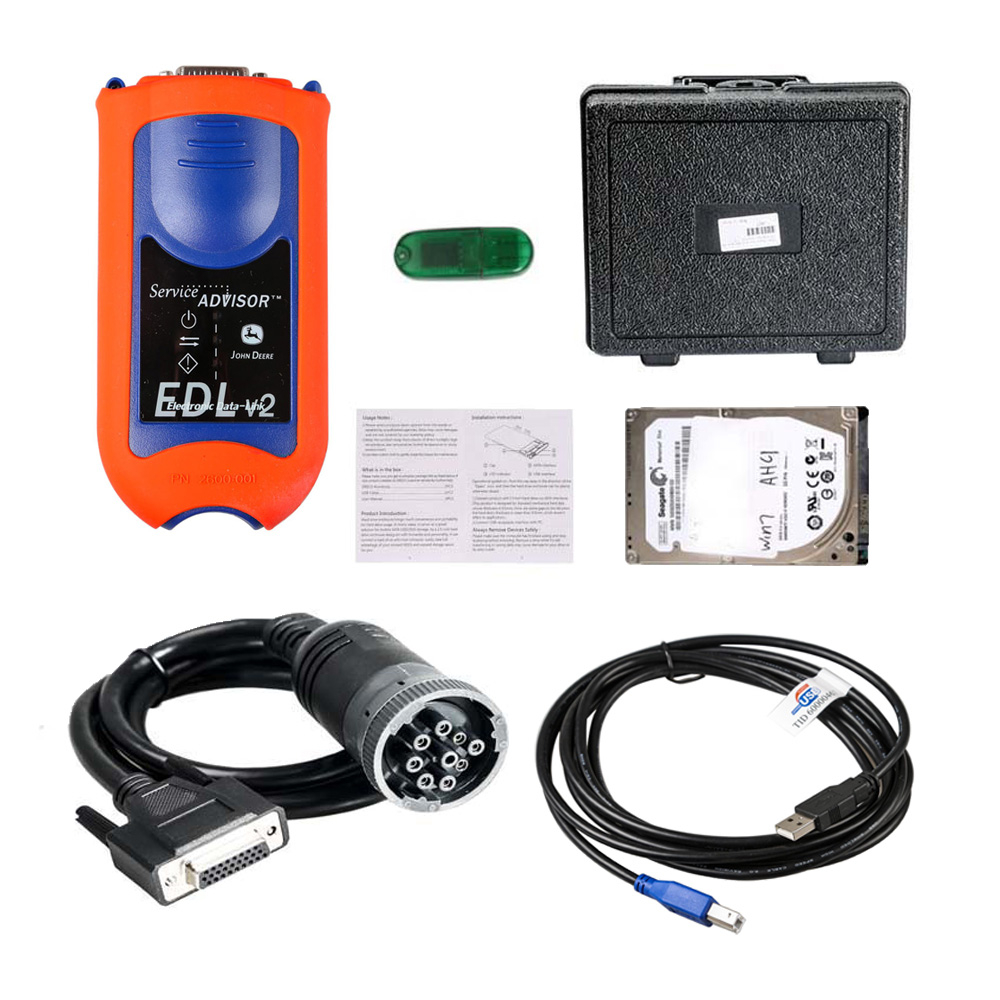 Storage Box (Part # SA5025)
USB Cable (Part # SA5026)
DS10150 (Part # DS10150)
EDL v3 Wireless Adapter (Part # SA5022)
1 set x second-hand Lenovo T420 laptop
Lenovo T420 Laptop configuration :
Brand: Lenovo
Condition: Used
Type:  Laptop/Notebook
Screen Size:  14.0
Processor Type:  Intel (R) Core(TM) I5-2520M CPU
Processor Speed:  2.50 GHz
Processor Configuration:  Dual Core
Memory: 4GB
Compared with other laptop, this one is better quality and run faster.
Any need please feel free with us sale@cnautotool.com, thanks