I have a problem I bind my Mini ACDP key programmer and my smartphone via wifi, an error prompt appears 'WiFi connection fails, please check the phone is WiFi connection and whether the WiFi name and password are correct. Then retry the initial use settings.' But I check my password is right, what else will cause this issue?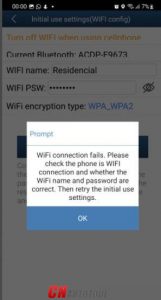 CnAutotool.com engineer replied:
The possible cause is the WiFi name is too long and cannot identify successfully.
Change the hotspot name (shorten the name) and try to bind again.