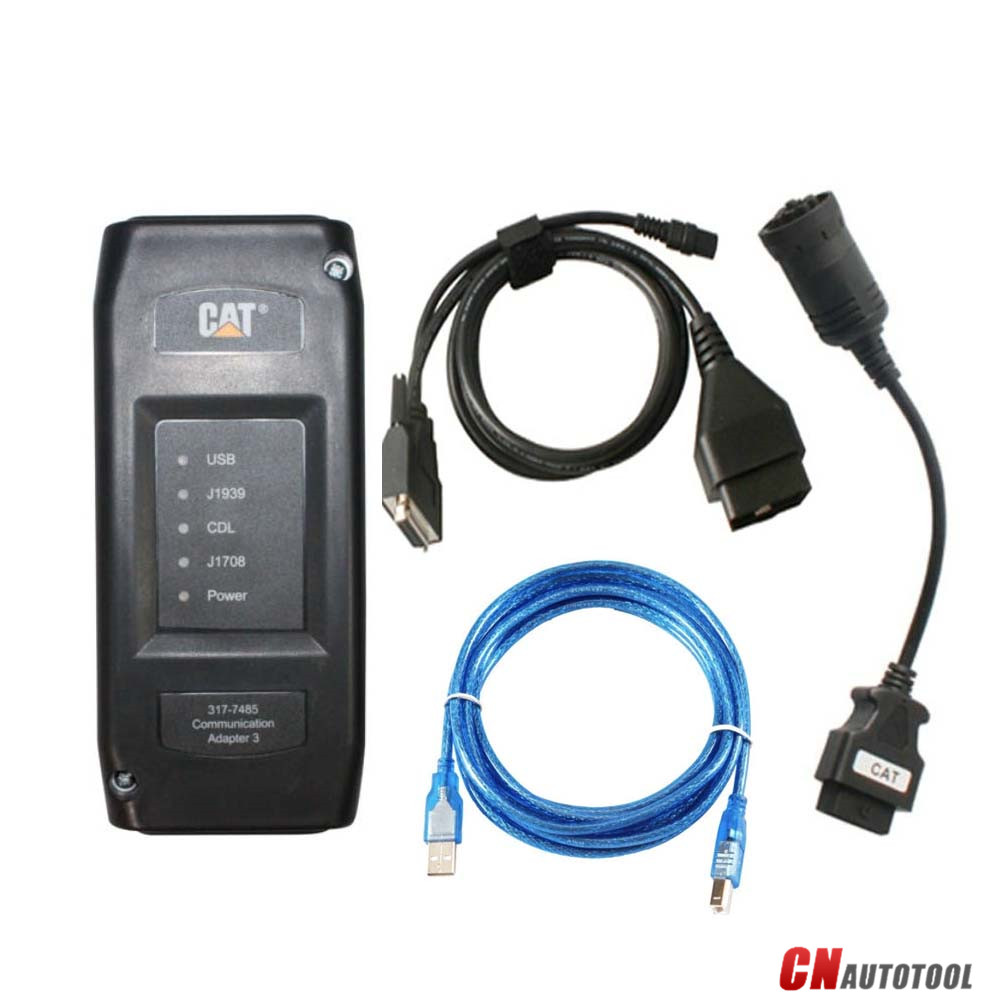 CAT ET Adapter III FAQ:
Q1 :Is the Cat Comm III compatable with the software CAT caterpillar ET 2011B Is this an actual caterpillar part or a knock off? Thanks
A1: Yes, this is actually the genuine CAT adapter,It is also the ONLY recommended adapter for CAT ET, but obviously other ones will work. It will work fine for the version you have, and 2011C is actually the newest version.
Q2:What is the difference between a cat comm II & Cat Comm III. Is one just a usb connection and one serial? Also, will this unit work with my Cat 3126B marine units? Seriel no. 3GS01797 Thanks
A2:CAT Comm II was a serial port model, but since computers are no longer made with serial ports, they changed the design to a USB and called it a CAT Comm III. So you are correct. This unit works with all CAT engines — Marine, on-highway, and off-highway. On Marine units, I'm not sure where they put the plug, but it should be somewhere near the ECM (Typically). It should be either a 6 pin or 9 pin connector.
Q3: Does this work with CAT 3500 natural gas engines and 3600 natural gas engines? Thanks.
A3: If those programs use CAT Electronic Technician (CAT ET) for the software, it will work.
Q4: Can the cat communicate3 also be used to read detroit and cummins engines if I have the correct software?
A4:Yes, it reads both J1708 and J1939 so it can read both of those. Keep in mind that this adapter only comes with the J1939 adapter end, so I would recommend purchasing the J1708 adapter end from me as well if you plan on connecting to some older stuff.
Q5:will this unit allow me all access to the ecm to alter all areas eg set speed limiter to a lower speed and is there a yearly lic fee.
A5: This device is what you should use if you will be hooking up to both off-highway & on-highway CAT engines. If you are strictly wanting to work on on-highway CAT engines, I would rather see you purchase a Nexiq USB Link .The Nexiq USB Link is universal (Works with CAT, Cummins, Detroit, Allison, etc…), it is cheaper, plus it has bluetooth so you can go wireless.
Q6: want to compare the communicator and some caterpillar ECMS could tell me if it works with them.
A6: This item works with all CAT ECMS — Off Road and On Highway, trucks and equipment
if you have any suggestions about cat et diagnostic adapter iii, please leave us message or visit our website and contact us: sale@cnautotool.com