This program works Et Cat dealer diagnostic distributor of Caterpillar Communication Adapter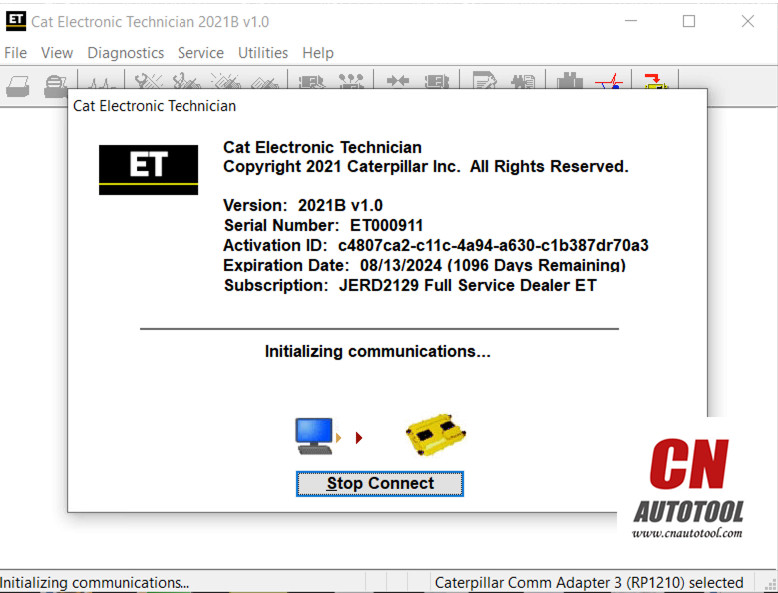 Caterpillar ET 2021B program provides comprehensive information and troubleshooting your CAT machinery.
Among its features it is that CAT Caterpillar ET has the ability to do analysis and testing of all sensors and real-time systems.
And also it allows you to view all error codes of Caterpillar machinery and has integration with Caterpillar sis in this way to see all technical information for how to fix the fault.
With the CAT Diagnostic Tool, you can:
View active and logged diagnostics
View events where irregularities occurred and were logged by the ECM
View the status of a group of parameters (temperatures, pressures, etc.) simultaneously
Record and log performance data
Graph a group of status parameters
View the current configuration of an ECM
Change ECM configurations
Perform diagnostic tests
Perform calibrations
Print reports and diagnostic results
For some machine and engine products, additional functionality has been included with the service tool program
Features
Display, graph and log status parameters.
Retrieve prognostic data including histograms, engine totals for fuel used and miles traveled.
View active diagnostics and clear logged diagnostics. View events where irregularities have occurred and have been logged by the ECM.
Perform calibrations to enhance performance of the ECM.
Customize the ECM with application-specific settings.
Over 100 custom Diagnostic, Information and Service features including:
– 2D and 3D Histogram plotting capability (engine software
support required).
– Custom Status screen groups
– Snapshots (Download and display snapshot data recorded by the
ECM)
– Configuration Aid that allows upload/download of same
configuration to multiple control modules
Customised Service Tool Options
Customized service tool name
Customized graphics for the splash screen and icons
Customized installation
Aftermarket differentiation, i.e., the tool for one customer does not work on the product of another customer.
Licensing options for customer management
Flash programming of the ECM(s)
Training demonstration allows familiarity with the tool's primary functions without connecting to ECM(s)
Perform customized diagnostic tests to identify harness problems, cylinder or component failures (Automatic Cylinder Cutout with cylinder to cylinder fueling comparison)
Caterpillar electronic technician 2020B with WinFlash future is an updated version of the caterpillar dealer diagnostic software that can help technicians to diagnose existing and potential problems with their electronically controlled Caterpillar Engines and Machines.
What's New – 2020A
Product Status Report Updates
The Product Status Report has been updated to include throttle configuration information.
What's New – 2021A
No significant new features or feature enhancements
What's New – 2020C
No significant new features or feature enhancements
What's New – 2020B
Trainer Update – 299D3
The 299D3 Skid Steer Loader has been added to the Trainer application.
What's New – 2020A
Product Status Report Updates
The Product Status Report has been updated to include throttle configuration information.
Built-in Factory Password Generator
The experimental feature allows you to decode (18-Bit passwords not supported) factory passwords
Changes in testing marine sea
In state function test marine sea, manual input parameters 9xx have been updated. Some numbers have been removed and some existing numbers have new descriptions. New numbers have been added with new number designations 900 for existing engines, including engines based on SCR aftertreatment level 4. The names and content of the configuration files steady state have changed and are based on the Engine cooling system. Feature sea trial now supports fixed speed marine engines.
Updates Product Status Report The Status Report
product has been updated to include certain features compatible with ECM history, as the history of subsequent regeneration treatment and service history test.
Update Winflash screen
display for Winflash function has been updated. A new Expand All button opens all sections of the screen to show all the details of the ECM detected by WinFlash. A new Collapse All button hides all the sections of the screen except the header rows that display the names of ECM detected.
Package :
1.Used Dell D630 laptop
2.Real CAT et3 Comm Adapter III(it's best quality cat et 3,not adapter 2,please check Communication port)
3.USB Cable (From device to your computer)
4.J1939/J1708 9PIN Cable (from device to your truck)
5.6PIN Cable (for old truck)
6.14PIN Cable(for new truck)
7.Plastic box