X300 DP Plus Key Programmer overview (Package A):
The Obdstar DP Plus is a new Android-based vehicle trouble diagnostic device developed for internet applications.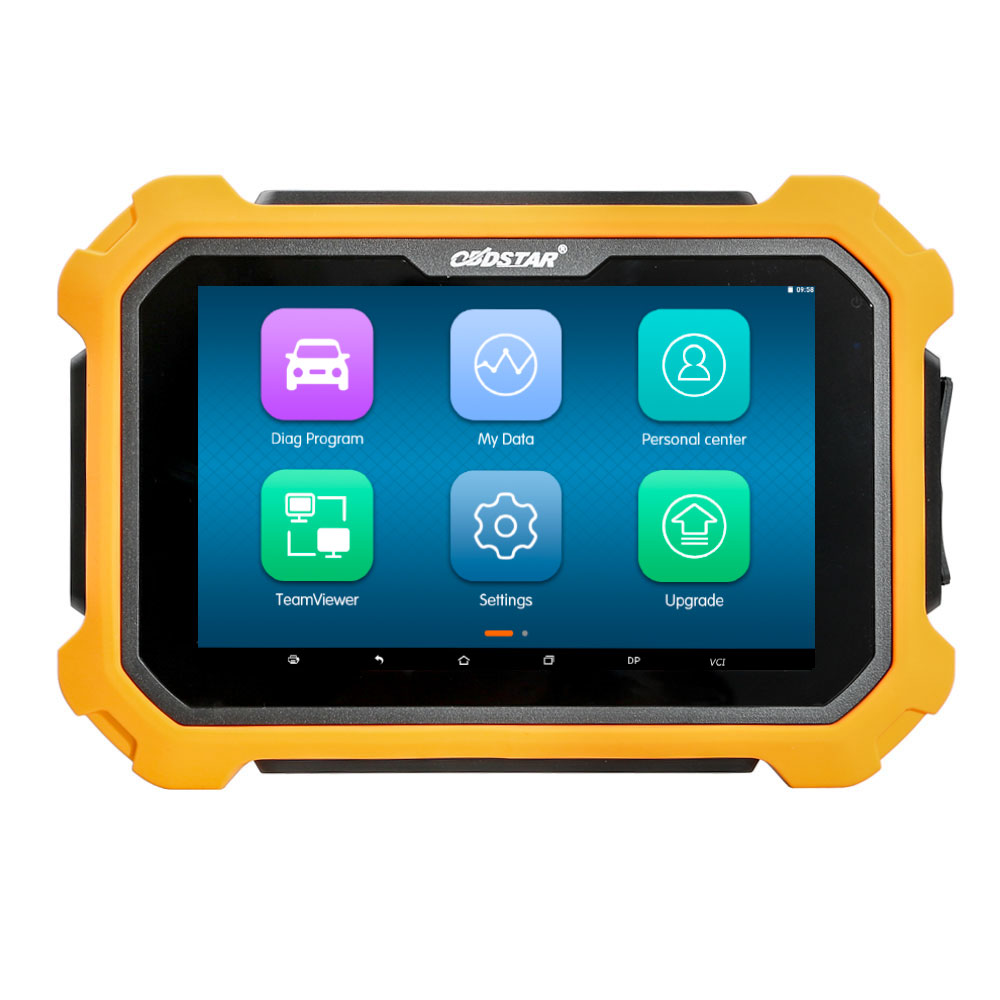 The Obdstar X300 DP Plus has all the Obdstar advanced diagnosing technology and it is characterized by covering a wide range of vehicles, featuring powerful function, and providing precise results. Through vehicle diagnostic OBD connector and variant mobile intelligent terminals, it achieves vehicle trouble diagnosis for full car model and full system vehicle. Meanwhile, taking advantage of mobile internet, the X300 DP-Plus device integrates more applications and services, such as Maintenance Database, remote assistant, One Key Upgrade etc.
Obdstar X300 DP Plus advantages:
X300 DP Built-in VCI box
X300 DP Plus has an 8-inch touchscreen
X300 DP Plus Charge directly via OBD interface
X300 DP Plus Practical and high-end gift box
X300 DP Plus Industrial design with silicone case
X300 DP Plus Back bracket design: prop on the steering wheel or stand on the table
X300 DP Plus has 4 OBDSTAR Toyota smart key simulation (the OBDSTAR fifth Toyota emulator is coming soon)
X300 DP Plus P001 programmer: X300 DP Plus EEPROM adapter + X300 DP Plus RFID adapter + X300 DP Plus Key Renew adapter
X300 DP Plus Eeprom clip for reading SOP 8PIN EEPROM
X300 DP Plus C001/C002 circuit board to read and write chip data with welding
X300 DP Plus IMMO induction coil to detect the key induction coil failure of the vehicle.
X300 DP Plus wiring harness of ECU reading by OBD (for ECU cloning and switch activation)
X300 DP Plus Software Advantages:
OBDSTAR X300 DP Plus immobilizer applications:
X300 DP Plus transponder key programming throw Eeprom & MCU applications
X300 DP Plus renew used remotes & X300 DP Plus renew used smart keys
X300 DP Plus key programming throw OBD II for spare and all keys lost
X300 DP Plus remote control programming
X300 DP Plus cluster calibrate: Obdstar DP Plus has a wild vehicle coverage for instrument cluster calibrate, pls check the car list
X300 DP Plus vehicle diagnosis: X300 DP Plus realize all vehicle systems diagnosis
X300 DP Plus Special Functions: X300 DP Plus TPS coding / X300 DP Plus ABS coding / X300 DP Plus EPB coding / X300 DP Plus DPF programming / X300 DP Plus TPMS reset /X300 DP Plus SRS Reset/X300 DP Plus Fuel Injector coding / X300 DP Plus Gear Learning / X300 DP Plus Battery Matching / X300 DP Plus ECU Programming / X300 DP Plus Throttle Matching / X300 DP Plus Oil service reset / X300 DP Plus Steering Angle Reset / X300 DP Plus Remote Manual Setting / X300 DP Plus Electronic Steering Reset / X300 DP Plus CVT Learning / X300 DP Plus Value Reset
Vehicle ECU Programming Cloning and can be done by the following options:
X300 DP Plus clone ECU means copy ECU data, the OBDSTAR KEY MASTER DP Plus copies the data from the original car ECU, then write it into another ECU hardware, so that it can achieve the same function as the original ECU.
X300 DP Plus ECU cloning can be done by OBD plug for many ECU models, you won't need to do ECU online programming or dismantle ECU to weld, read & write.
X300 DP Plus ECU cloning is convenient, fast, and saves money.
X300 DP ECU cloning steps are simplified, ad it can be operated by the amateurs.
X300 DP ECU cloning doesn't need to dismantle ECU and weld the ECU to read & write ECU data, it is zero risk to clone ECU via OBD with the KEY MASTER DP Plus.
OBDSTAR X300 DP Plus CANBUS switch activation function:
many instrument cluster or audio of vehicles activate secondary power supply to go into power-on status by relevant module CAN communication on the vehicle, but sometimes it is separated from the vehicle CANBUS network, causing startup failure when it needs to be repaired by an auto technician. This function can simulate CAN communication to activate secondary power supply, so the instrument or the audio enters into power-on status. In this way, it not only can test and verify the instrument or the audio, but also save an enormous cost for an auto technician to purchase a large number of startup platforms of various vehicles and wiring harnesses!
OBDSTAR X300 DP Plus help functions:
OBDSTAR X300 DP Plus includes built-in testable vehicle models, X300 DP upgrade announcements, X300 DP features, X300 DP help notes, X300 DP wiring diagrams & etc.
OBDSTAR X300 DP Plus car list and OBDSTAR X300 DP Plus upgrade announcement details are available on the device
Customers can look up the features or uniquely support functions on the device
X300 DP Plus programming help notes: built-in help notes for each model or function
Obdstar Keymaster DP Plus Wiring diagrams: X300 DP+ has a built-in ECU wiring diagrams, more intuitionistic and convenient
Obdstar X300 DP VS Obdstar X300 DP plus:
Obdstar X300 DP plus comes with 4 Obdstar Toyota smart key emulator
Obdstar X300 DP plus can be charged by OBD plug
Obdstar X300 DP plus can work separately with Obdstar VCI
Obdstar X300 DP plus have a back holder to carry it easier
Obdstar X300 DP plus has a better screen size & better screen resolution
Obdstar X300 DP plus comes with Obdstar P001 programmer
Obdstar X300 DP plus has a wiring harness function which allows you to clone ECU & more features
Obdstar X300 DP plus have help functions to show Obdstar X300 DP plus diagram, Obdstar X300 DP plus announcement and more features
Obdstar X300 DP plus have switch activation function for specific vehicle models
Obdstar X300 DP Plus A configuration VS Obdstar X300 DP plus C configuration:
X300 DP Plus A Package: Is used as a universal key programmer for locksmiths
X300 DP Plus C Package: Is a 3-in-1 tool for auto repair shops & locksmith it support (auto diagnostic tool + car key programmer + programming tool for special functions)
X300 DP Plus C Package main difference:
X300 DP Plus C Package have car diagnostic software
X300 DP Plus C Package have car odometer correction software
X300 DP Plus C Package have  Obdstar ECU cloning software
X300 DP Plus C Package has the full Obdstar special function software for car modules programming
OBDSTAR X300 DP Plus technical parameter :
OBDSTAR X300 DP Plus Operation system: Android 5.1.1
OBDSTAR X300 DP Plus CPU: Exynos 4418 Dual Core ARM Cortex A9 1.4GHz
OBDSTAR X300 DP Plus Battery: 3700mA, rechargeable polymer lithium battery
OBDSTAR X300 DP Plus Extension memory card: 32G Micro SD (TF) card supported
OBDSTAR X300 DP Plus Memory capacity:1GB
OBDSTAR X300 DP Plus Storage capacity: 32GB
OBDSTAR X300 DP Plus LCD: 8.0 inch
OBDSTAR X300 DP Plus LCD resolution: 1280*800
OBDSTAR X300 DP Plus Touch screen: Capacitive touch screen
OBDSTAR X300 DP Plus Camera: 5 mega rearview camera
OBDSTAR X300 DP Plus Wi-Fi: supported
OBDSTAR X300 DP Plus Working temperature: -10℃ ~ 55℃(14℉ ~ 131℉
OBDSTAR X300 DP Plus Storage temperature: -20℃ ~ 70℃(-4℉ ~ 158℉
OBDSTAR X300 DP Plus device weight: about 1.0 Kg
OBDSTAR X300 DP Plus Dimension: 254mm*174*mm*35mm
Obdstar X300 DP Plus A Package containers:
Obdstar X300 DP Plus A configuration included software:
X300 DP Plus Immobilizer software
Special function applications:
X300 DP Plus EEPROM software
X300 DP Plus Key renewing software
Obdstar X300 DP Plus A configuration included hardware:
X300 DP Plus main unit
X300 DP Plus main OBD cable
X300 DP Plus charger
X300 DP Plus Kia 20 OBD adapter
X300 DP Plus Hyundai 10 OBD adapter
X300 DP Plus OBD16 connector adapter
X300 DP Plus Haima 17 OBD adapter
X300 DP Plus P001 programmer
X300 DP Plus C001 circuit board
X300 DP Plus C002 circuit board
X300 DP Plus W001 data cable
X300 DP Plus W002 data cable
X300 DP Plus W003 data cable
X300 DP Plus Ignition coil tester
X300 DP Plus RT100 Remote tester
X300 DP Plus Toyota smart key Emulator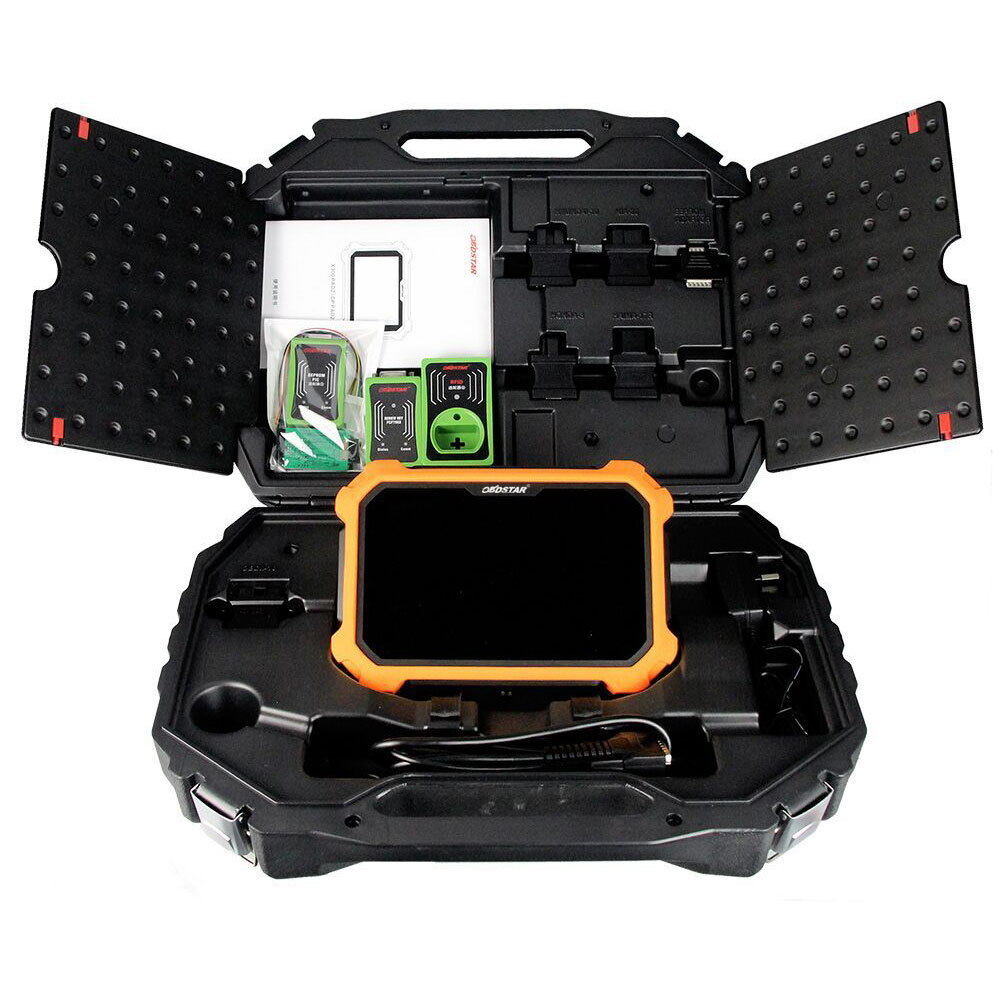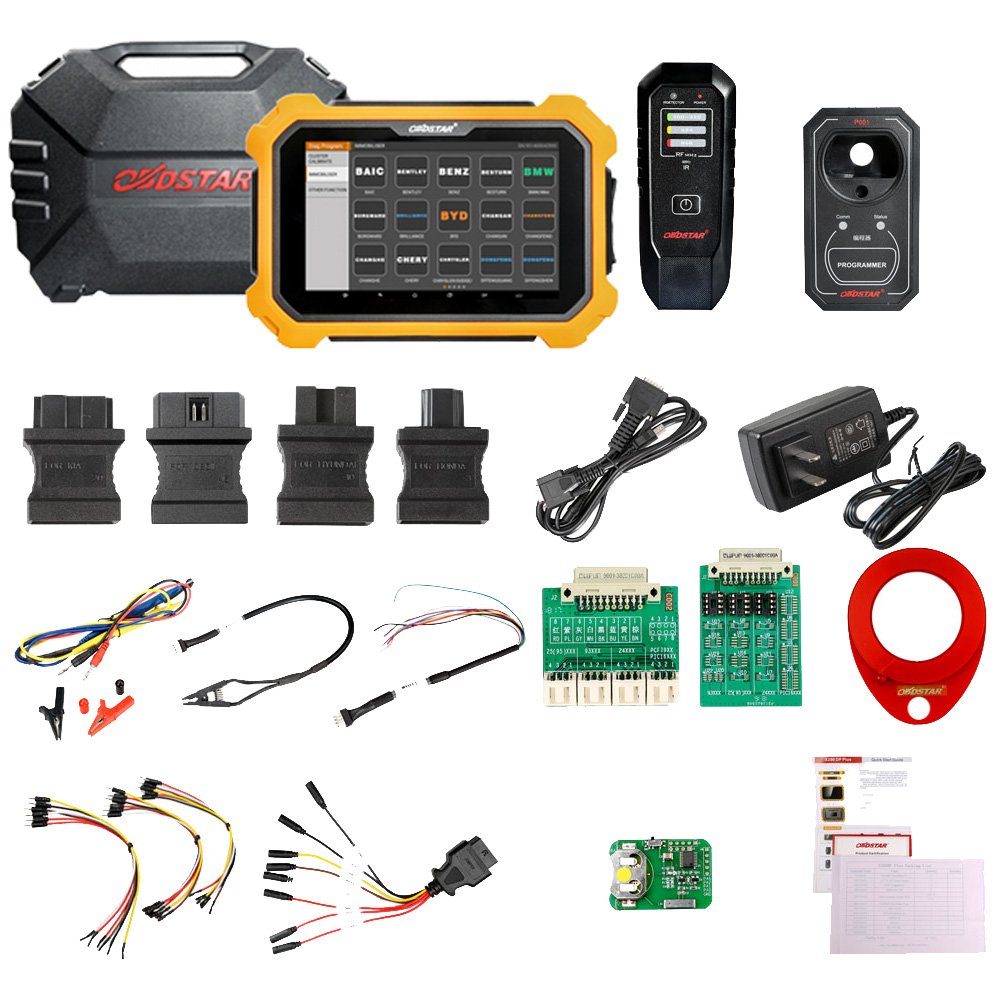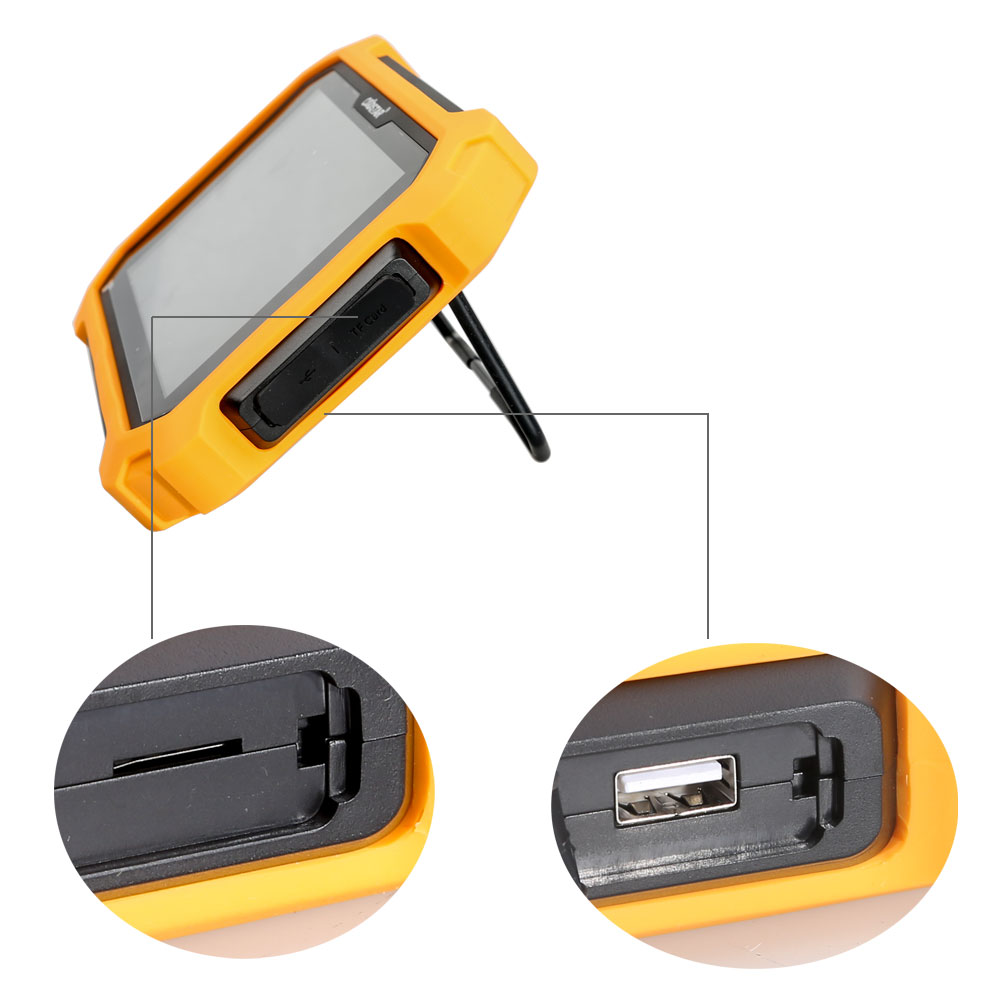 For more information about OBDSTAR OBD2 tools, please visit our website sale@cnautotool.com