Good Choice NEXIQ USB Link for Heavy-Duty Truck Diagnosis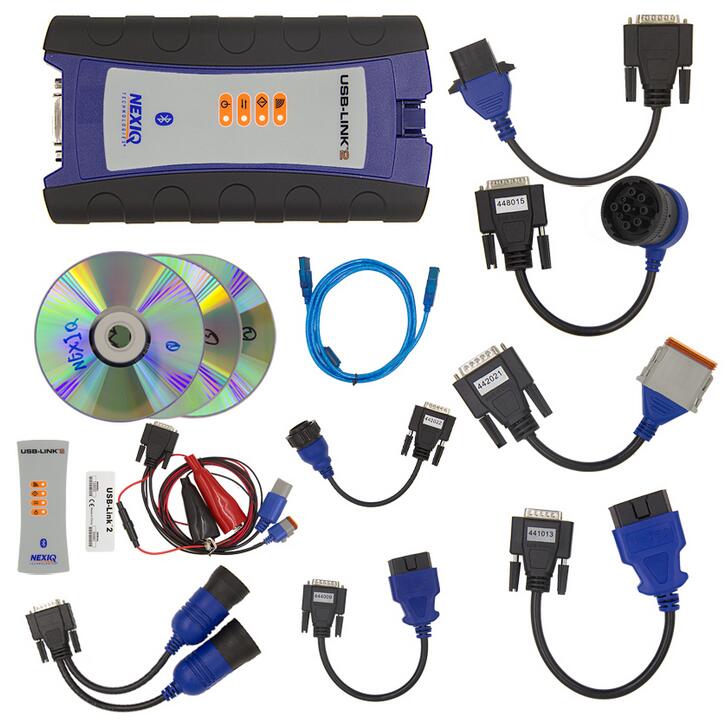 Top 8 Reasons to Get NEXIQ-2 USB Link :
1. Support system: XP and windows 7 (Volvo Hino Perkins Cat Nissan software must be used on xp system, orther software can be used on win 7 32bit)
2. It Works As Great As Nexiq.
3. Compatible with applications that diagnose engines, transmissions, ABS, instrument panels and more.
4. Reduce reprogramming times with direct USB connection.
5. Mixed fleet capabilities with broad protocol support.
6. Quick access to vehicle data for maintenance or management reports.
7. Quickly attaches to vehicle's diagnostic connector.
8. Easy portability increases flexibility, May be used with desktop PC or laptop.
What are the features of NEXIQ USB Link?
Compatible with applications that diagnose engines, transmissions, ABS, instrument panels and more.
Reduce reprogramming times with direct USB connection.
Mixed fleet capabilities with broad protocol support.
Quick access to vehicle data for maintenance or management reports.
Quickly attaches to vehicle's diagnostic connector.
Easy portability increases flexibility, May be used with desktop PC or laptop.
What is the NEXIQ protocol list?
CAN – J1939/CAN125/CAN250/CAN500/CAN1000
2nd CAN – J1939/CAN125/CAN250/CAN500/CAN1000
J1587/J1708 J1850 J2534
ISO 15765 (Diagnostic CAN)
ISO 14230 (KWP2000 over ISO9141) ALDL ATEC 160 (160 baud)
NEXIQ support Heavy-Duty, Light-and Medium-Duty Trucks, CONSTRUCTION EQUIPMENT like (Wheel loader, Articulated Hauler and Excavator), Genset.
What are the packed softwares?
– Allison (Included!)
– Bendix 6.3.8.0 (Included!)
– Detroit Diesel DDDL 7.05 ((Included!)
– Detroit Diesel DDCT (Included!)
– Detroit Diesel Calibration Tool (Included!)
– Eaton Service Ranger 3.2 (Included!)
– International DLB (Included!)
– International ICAP, IPTS, NETS, IPC (Included!)
– International Master Diagnostic (Incluided!)
– Meritor and Wabco Diagnostics (Included!)
– Cummins Insite 7.5 (Included!)
– Hino 2.0.3. (Included!)
– Caterpillar 2.0.1.0 (Included!)
– Perkins EST 2010B (Included!)
– V Macks 2.6.12 (Included!)
– V Macks Dealer Pro (Included!)
– Volvo VCADS 2.35.10 (Included!)
– Toyota Techstream for car (Included!)
Notice:
1. It Can Not Be Updated, Otherwise, The Multiplexer Will Be Damaged.
2. For Volvo, Hino, Cat and Nissan software, please install them on Windows XP only, other vehicle software can be installed on Win 7.
3. When you change time of your laptop, Cummins Inline software will get locked, please download the attached fileow-to-unlock-cummins-inline" to solve it.
4.Before install the Nexiq-2 software CD,pls reinstall your computer system first,otherwise the multiplexer will be damaged
NEXIQ-2 USB Link Packed Software and Application:
– Allison (Included!)
– Bendix 6.3.8.0 (Included!)
– Detroit Diesel DDDL 7.05 ((Included!)
– Detroit Diesel DDCT (Included!)
– Detroit Diesel Calibration Tool (Included!)
– Eaton Service Ranger 3.2 (Included!)
– International DLB (Included!)
– International ICAP, IPTS, NETS, IPC (Included!)
– International Master Diagnostic (Incluided!)
– Meritor and Wabco Diagnostics (Included!)
– Cummins Insite 7.5 (Included!)
– Hino 2.0.2. (Included!)
– Caterpillar 2.0.1.0 (Included!)
– Perkins EST 2010B (Included!)
– V Macks 2.6.12 (Included!)
– V Macks Dealer Pro (Included!)
– Volvo VCADS 2.35.10 (Included!)
– Toyota Techstream for car (Included!)
If you want to know more,pls check the link:https://www.cnautotool.com/goods-5090-NEXIQ-2+USB+Link++Software+Diesel+Truck+Interface+and+Software+with+All+Installers.html