Caterpillar ET 2019C is a good replacement for the CAT ET 2018b, 2019A,2019B Electronic Technician Diagnostic Software. Cat electronic technician 2019C is an updated version of the caterpillar dealer diagnostic software. The program easy to works with the Caterpillar Communication Adapters family. This diagnostic app allows you to: Change vehicle's parameters Lock / Unlock parameters Diagnose and reconfigure Reading of error codes ECM Flash.
2019C Caterpillar Electronic Technician software With CAT ET 3 Cat caterpillar adapter 3 support caterpillar diagnostic till 2019..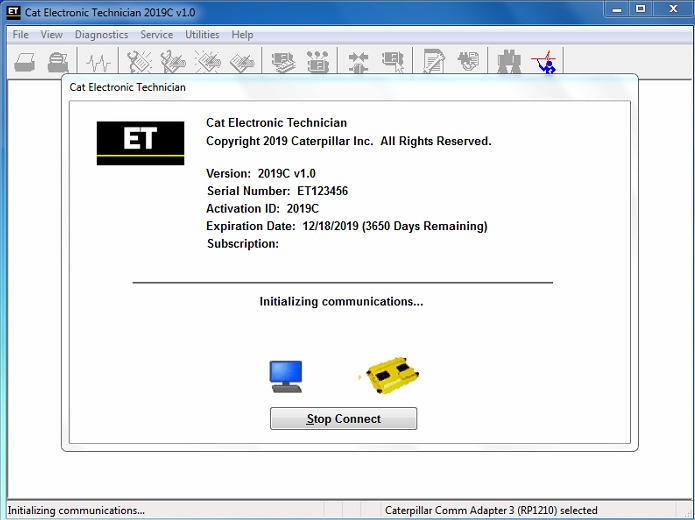 This program works with the dealer diagnostic scanner caterpillar Communication Adapter, as well as other adapters for diagnostics including scanner Nexiq; the program provides the full information when troubleshooting.
This diagnostic tool Cat ET allows service technicians to reprogram ECMs, reconfigure control system parameters, fine-tune performance or diagnose the cause of failure for the first time. These powerful tools allow service personnel to display and analyze vital performance and health information from any system quickly and accurately.
When you purchase a program Cat ET (Cat Electronic Technician) 2020A/2019C, you get detailed and clear instructions on how to activate it. But if you have difficulties or questions concerning the installation, we are helping you to enable the software remotely via TeamViewer free of charge, without any additional fees.
We recommend using only Heavy Duty Truck diagnostic Scanner genuine caterpillar comm III
Heavy Duty Diagnostic Cat ET diagnostic app allows you to:
View active and logged diagnostics.
View events where irregularities occurred and were logged by the ECM.
View the status of a group of parameters (temperatures, pressures, etc.) simultaneously.
Record and log performance data.
Graph a group of status parameters.
View the current configuration of an ECM.
Change ECM configurations.
Perform diagnostic tests.
Perform calibrations.
Print reports and diagnostic results.
Please keep in mind that some ECM settings, for example, speed limit requires factory password. The factory password generator not included in this application
What's New – cat Electronic Technician 2020A/2019C
Preferences Option to Save a Product Status Report to PDF
The service tool now displays the selected communications adapter when the service tool is disconnected. The adapter name is displayed in the status area at the bottom right of the service tool window.
End of Support for Windows 7
Microsoft is ending extended support for Windows 7 as of January 2020. The service tool will be ending support for Windows 7 as of the 2020A release.
The OBD Scanner vehicle diagnostics Preferences dialog for the Product Status Report has changed. The dialog contains a new checkbox to automatically save a Product Status Report as a PDF file when the report is created. The service tool will continue to automatically save Product Status Reports as an XML file.