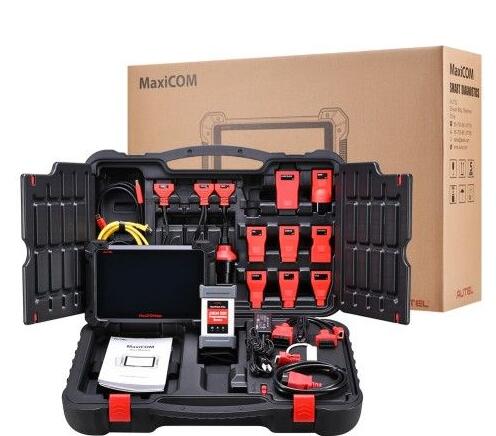 Topic: I want to buy an auto diagnostic scanner for my new auto repair shop. Autel Maxicom MK908P and Maxisys MS908P look a little bit difference but similar functions. They comes in different prices, which is better to choose?
CnAutotool.com suggestion:
Autel MK908P, is the upgraded version of MS908P. They are both professional diagnostic tools with big touch screen and advanced hardware from the Samsung Exynos hexa-core processor for quick and comfortable car diagnostics. Offering comprehensive OE-level diagnostics, ECU coding and BMW/Benz ECU programming, both of them are ideal automotive diagnostic tools for mechanics to troubleshoot the warning lights and fix the vehicle control modules' issues.
Autel MK908P vs. MaxiSYS MS908P:
Price & Package:
Autel MaxiCOM MK908P Full System Diagnostic Tool with ECU Coding and J2534 ECU Programmer:
1.Price: €2,129.00 free shipping
2.Package List:
1 x Main Unit MK908P
1 x J2534 Box
1 x Main Cable
1 x Standard 2.0 USB Cable
1 x Mini USB Cable
1 x AC/DC External Power Adapter
1 x Ethernet Serial Cable
1 x Cigarette Lighter
1 x Clipper Cable
2 x Light Fuse
1 x BMW Ethernet Cable (Optional)
1 x USB Ethernet Adapter
14 x OBDI Adapters (Benz-14; Chrysler-16; BMW-20; Kia-20; Nissan-14; GM/Daewoo-12; Honda-3; Fiat-3; PSA-2 Benz-38; VW/Audi-2+2; Mitsubishi/Hyundai-12+16)
Autel MaxiSYS Pro MS908P with MaxiFlash Elite J2534 ECU Programmer
1.Price: €2,177.00 free shipping <
1). Main part
Quick reference guide
Lighter Fuse
Main cable
Protective carrying case
USB Cable
User's Manual
Cigarette Lighter
Compact Disc (CD)
AC/DC External Power Adapter
Clipper Cable
Capacitive Stylus Pen
Soft Cloth
Packing List
Mini USB Cable
Ethernet Serial Cable
MaxiFlash Elite
2). Adaptor
GM/Daewoo-12 adaptor
PSA-2 adaptor
Fiat-3 adaptor
Audi-2+2 adaptor
BMW-20 adaptor
Benz-38 adaptor
Kia-20 adaptor
Mitsubishi/Hyundai-12+16 adaptor
Nissan-14 adaptor
Honda-3 adaptor
Chrysler-16 adaptor
Benz-14 adaptor (Optional)
Here is other suggestions from a user.
Answer by Noor0118:
I bought a MK908P.
What is the difference. Ms and Mx are offline models with ip restriction. If you buy a ms908 in the Netherlands you never can change to Dutch language if you didn't buy from offline dealer. Mk and MP models are sold by online dealers and you can change language free and no ip restriction. The MK908P has the same functions as ms908P, but the Mk908P has a little bit better hardware.
Based on the comparative analysis, choose the one that suits you. Good luck!